How to choose a Nantucket Charter Fishing Guide
March 28, 2017
|
Comments Off

on How to choose a Nantucket Charter Fishing Guide
|
Uncategorized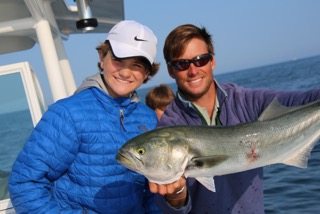 Nantucket Charter Fishing Guide
In March I had the opportunity to fish with one of the premier flats guides on the West Coast of Florida. We spent half a day stalking the mangroves for trophy size snook using a 7 weight Hardy fly rod. While the largest size Snook we caught that afternoon was a 34 incher, I still would considerer it a successful day. The Captain was excellent, plenty of fish were caught, and lots of fun was had. When a friend asked for my guide's info I said that the guide might not be the best fit. He was surprised by this comment, but I knew that my friend was not much of a fly fisherman and that he was more of a "get on the water, and have a great experience type fisherman." The guy I fished with was a hard core guide who would not put up with a someone just there to have fun.
On Nantucket there are over 20 different charter boat captains. There are a few guys off of straight wharf who do an incredible job of getting individuals on the water for short trips. These guys catch a lot of fish and customers have a ton of fun. The "catch" is that most of the fishing is trolling, the trips are short, but they are fun. But to the Customer looking for a Nantucket Charter fishing experience where they cast the rods, stalk the fish and see the island, the captains out of Madaket tend to be the best option.
There are three major outfits that work out of Madaket and all do an incredible job of getting customers on fish while teaching them to cast and making sure that customers have a more authentic fishing experience. While this might seem like the perfect charter for all it isn't necessarily. The major negative here is if a family or group is simply looking to get on the water and don't want to work, than this isn't the right experience. Also, in truth, if your pure goal is keeping fish and catching large quantities, the town captains do tend to out fish the madaket captains.
One piece in the nantucket charter fishing question that has not been answered is price…. Which captains bring customers the most value. Based on sticker price alone, the madaket guys seem to cost more until you realize that their typical trip is 4-5 hours while the Straight Wharf captains go out for 2.5 hours. So if you are looking for least expensive experience, town tends to win, but when you compare what you get, Madaket gives you more value. If you compare a half a day with each, Madaket is far cheaper. But those looking to get just 2-3 people on the water and are dollar conscious should look to Straight Wharf.
Most importantly though, whether you want a day offshore chasing Tuna on spinning gear, a half a day in the rips casting for stripers, a short excursion to great point trolling for blues, Nantucket offers everyone different options, what is most important is for a potential charter boat customer to think through the experience they want and ask questions rather than to blindly book a trip. The important questions to ask yourself are 1) how long do you want to fish for? 2) do you want cast or do you want to troll? 3) What type of boat do you want to fish on? 4) Do you want a private boat or not?
The top 12 Nantucket fishing guides are awesome, but what is important is that you get the experience you are hoping for. Here is a good Link that can also guide you…